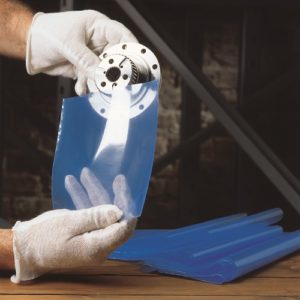 Premium Metal-Guard VCI poly film recloseable bags provide effective corrosion protection for metal parts during storage and shipment.
Constructed of clear film colored Daubert blue, our VCI poly bags allow for easy inspection without opening each package, while the zipper top opening provides quick access when needed, without the need to rewrap parts remaining in the bag.
Seven sizes, boxed in convenient quantities of 250 or 500, can ship immediately when ordered through the new Quick Ship program, www.daubertvcionlinecom.  Recloseable bags, all 4 mil, Daubert blue, are available in these sizes:
Order before noon CST for same-day shipment.
Our Premium Metal-Guard VCI poly bags are a great answer when you need to keep ferrous and non-ferrous metals clean and dry, ready for immediate use without additional cleaning or treatment.
Bags have an easy open zipper top to allow inspection without opening each package. Strong, flexible, tear-resistant VCI film protects:
Steel
Cast iron
Copper
Brass
Bronze
Galvanized
Nickel and nickel plated
Tin and tinplate
Typical applications include corrosion protection for small- to medium-sized products like:\r\n
Tools
Machined parts
Bearings
Gears
Valves and pistons
Brake parts
Finished components
Shipments, transportation
Premium Metal Guard VCI poly bags are also available in flat and gusseted types.
Visit our Quick Ship store now to view the full line of our available VCI poly bags.